DEXTERA – the first awning manufacturers in Lithuania
2021-05-12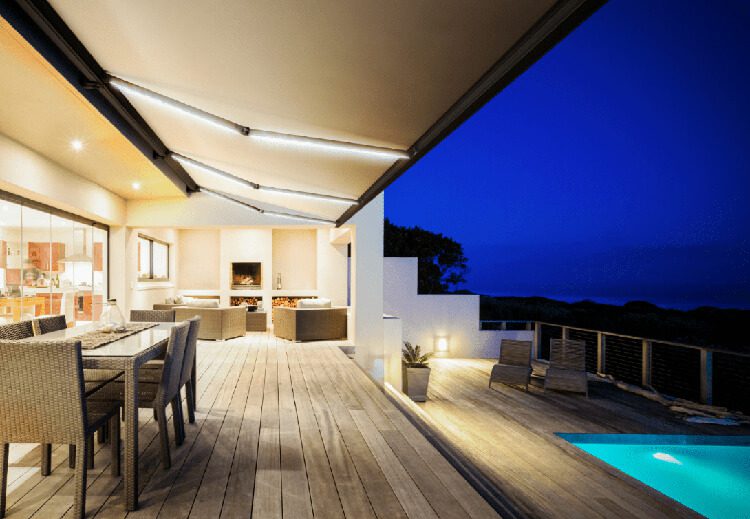 2021-05-12
DEXTERA – the first awning manufacturers in Lithuania
DEXTERA, a company offering solar control solutions that has been operating successfully for 25 years, presents a novelty – it is the first in Lithuania to start manufacturing awnings. This is the long-awaited news for all fans of Lithuanian products, especially since the satisfied customers have already got convinced that the quality bar of the products offered by our company is raised really high.
The drive and uncompromising quality
DEXTERA is one of the oldest manufacturers of roller shutters and blinds in Lithuania. It is a very reliable and best-known company offering window decoration solutions in our country (according to the KOG Institute surveys in 2019-2020). Today DEXTERA representatives are very happy to offer their customers the first Lithuanian awnings. The new product reflects the company's motto – "let in the sun as much as you want". After all, we know that the heat of midsummer can not only make you happy, but also weary. High-quality DEXTERA awnings are an easy way to regulate direct sunlight and to decide for yourself how much to let it into the terrace.
Advantages of DEXTERA awnings
DEXTERA presents three types of awnings – SUNNA, HELIOS, APOLLO. The company's representatives state that the highly creative names derived from the names of gods reflect DEXTERA's philosophy and goals – to provide customers with the utmost comfort and to guarantee divine rest. In terms of practical aspects, several key benefits are highlighted. One of them is the optimal production time. Other companies order products from suppliers, so it is natural that the whole process takes much longer. This is especially relevant during the pandemic and quarantine period – after all, no one wants to get the awning, ordered during the sweltering summer heat, only in the middle of autumn. Another important argument for choosing DEXTERA is uncompromising Lithuanian quality. As already mentioned, this company has offered time-tested, durable products for even a quarter of a century. During that time, DEXTERA has known the needs of its customers, perceived all the nuances of production that require great meticulousness, and can therefore offer Lithuanian awnings of impeccable quality. Lithuanians are very demanding customers, thus Dextera offers individual awning measurements and ten carefully selected and most popular fabric colours.
Technical features of awnings
All three awnings made by DEXTERA are conveniently attached to walls or ceilings with universal brackets, and the angle of inclination is individually adjustable. The construction of the products is powder coated and is resistant to scratches and corrosion. The colour of the construction is available in white, silver, brown or anthracite. It is important to mention that the technical parts of the awnings are additionally protected by plastic covers, so dust does not accumulate and insects and arachnids are prevented from settling. Awnings can be conveniently controlled manually or automatically. A wide range of accessories is offered (the engine with emergency opening, the remote control, the wind sensor), which makes these solar control mechanisms even smarter and more comfortable.
The world's first air-purifying awning fabrics
The first Lithuanian awnings are manufactured using only the smartest and most advanced technologies. Representatives of DEXTERA emphasize that sustainable solutions that have a positive impact on the environment are extremely important to them. That is why customers will be able to choose awnings that have been created using the world's first air-purifying fabrics. Two of the twelve offered fabrics are air-purifying.  These awning fabrics significantly improve air quality, reduce pollution, eliminate unpleasant odours and are extremely friendly to nature and human health. The patented Green® fabric coated with titanium dioxide particles ensures that when UVA rays reach its surface, a chemical reaction begins, during which oxygen and water vapour are converted into cleaning agents. It is because of these processes that Green® reduces harmful nitric oxide gases, diminishes mold by nearly 60% and has a self-cleaning effect of about 70%. All this saves time on the maintenance of awnings and the resources of chemical cleaners, water and energy.
SUNNA awning is a combination of elegance and durability
SUNNA awning is the perfect solution for larger terraces and commercial objects. This cassette-free awning is suitable for cafe spaces and completely protects the private terrace from unwanted sunlight and prying eyes of passers-by. Precision-made elbow joints and connecting chains ensure the awning's longevity and reliable operation, whereas the side drain system facilitates maintenance.
HELIOS awning – for those seeking longevity
HELIOS awning is a reliable choice for anyone looking for long-lasting solutions. This extremely firm awning with a cassette can be mounted in both environmentally protected and unprotected areas. The cassette protects the fabric from rain, snow and dirt. One of the biggest advantages of HELIOS awning – additional protection from the sunlight on the low horizon – an elegant fabric wave at the front of the awning. It is also important to mention that when the wind sensor is installed, the awning intelligently responds to the increasing wind speed and folds automatically when the wind rises.
APOLLO awning – strength and refined design
This semi-cassette awning offered by DEXTERA is extremely stylish and decorates any terrace. Its construction parts are made of a special aluminum alloy, and the mechanisms are powder-coated – this way the painted parts have a smooth, scratch-resistant and surface-protective coating. APOLLO is easy to mount and the side drain system facilitates the product maintenance. Like its cousin, HELIOS awning, with the installed wind sensor, APOLLO intelligently responds to the increasing wind speed and folds on its own.
Buy without waiting
DEXTERA representatives recommend that you first get acquainted with the new products without delay. By choosing Dextera awnings, you will be sure that you will receive a top-class product and you will be able to enjoy the sun safely and in moderation, without being weary by hot rays. The wide range of product colours and the possibility of individual sizes allow you to create a unique product that will decorate and protect every terrace.