Pleated blinds – stylish discoveries in your home!
2021-07-29
2021-07-29
Pleated blinds – stylish discoveries in your home!
Pleated blinds – stylish discoveries in your home!
Summer brings new liveliness, new winds, new attitude, new start, and a new glance at our home. In order to maintain fresh ideas, DEXTERA designer Ineta Šidlauskienė invites a rediscovery of the old new – pleated blinds already loved in Lithuania, updated with delicately qualitative construction system for these blinds from Germany and supplemented with a new collection of materials. 
Pleated blinds – material, pleated according to the principle of the accordion, covering windows. By passing light, pleated material creates a dreamy and romantic interior atmosphere. A new glance at pleated blinds, which are becoming more and more popular, inspired the introduction of the updated product, expanding the possibilities of pleated blinds and surprised with their exceptional qualities. 
News of the season
This summer, DEXTERA introduces even two announcements at once – German pleated blinds' system Cosiflor and a new collection of materials, inviting to celebrate life!
Longevity, strong aluminium construction, ageless design and German quality – the advantages of pleated blinds' system Cosiflor which appeal to discerning Lithuanians. The system mechanisms are created to ensure they can be easily controlled and maintained. With the help of reserved handle, you can easily draw and pull the blinds to the desired level from the top to the bottom or from the bottom to the top. 
Thus, you can guarantee an optimal flow of light into the room and at the same time guarantee privacy, even when living on the first floor. Pleated blinds provide an ideal solution for dormers, glass doors and open and close windows as they are mounted really close to the window glass – even when fully opening the window, the finish of window reveal will not be broken.
Honeycomb – perfect hexagon 
The news of this season – materials of pleated blinds created according to the honeycomb principle! Honeycomb – a perfect hexagon, a perfect part of nature borrowed from the insect which is most reminiscent with the model of human life – bee. The shape of the hexagon gives a stylish and expressive form to the product.
Honeycomb pleated blinds are formed of two material layers, joined only in the places where the accordion bends. In the places where materials are not joined, there is a gap of air of a honeycomb shape, and control strings are mounted inside – thus there are no holes seen outside. These materials will be particularly liked by those who want to fully darken the room. 
The material of pleated blinds of a honeycomb shape:          Traditional material of pleated blinds: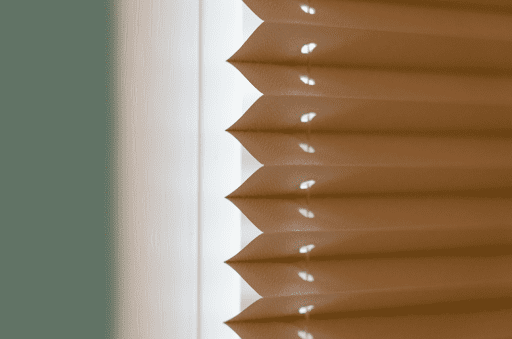 Quiet and cosy colours
You can choose from a wide assortment of pleated blind materials – from simple to Teflon coated, fireproof, covered with ray reflecting aluminium cover. New pallets of pleated blinds in quiet colours from the collections of Cassa, Neo and Contour are intended for those who value stability, quiet rest, calmness dictated by routine and the feeling of gentle care. 
Cosy colours – as if palms of nature – include light greyish brownish, sand yellowish, natural white, black, greyish bluish, light grey, mint greenish and clay-red brown. These are the colours which will always complement each other as they are connected to each other in nature.  
These earthy colours tend to reflect the internal human world – they "do not shout", "do not come out", "do not become arrogant", "do not chant" about themselves "this is me". These are the shades which complement other shades and tones present nearby. These colours are chosen by mature, wise, intellectual, restrained and self-confident people with a strong sense of harmony. These colours will be always suitable for those who select natural hues reflecting harmony with nature and with oneself. 
Colourful like life
Cara Uni, Palado, Lunata pleated blind' collections – this pallet of colours reflects summer and flowering, the din of friends and fun conversations. Bright and colourful, intuitive and dreamy, with flight and poetry, humour and loud laughing. This collection is intended for youth and everyone whose heart is young – bright red, sea blue, grass green, lilac purple, sunflower yellow, yellowish peach and turquoise blue! Colourful like life and creating the sense of holidays in your home!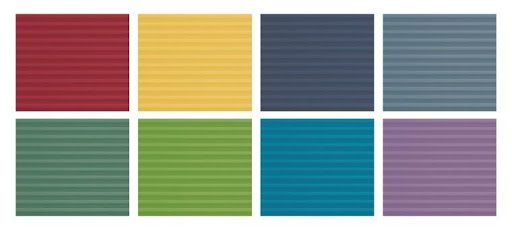 Those, who want to balance the colours of home, will always find the most popular white, grey and black materials, loved by the Lithuanians, in DEXTERA assortment:
When to choose sun blocking or reflecting materials? 
If your room windows are oriented to the south, where the sun is especially intense, we recommend choosing the room darkening material, covered with aluminium and light reflecting materials. Black out light blocking materials of pleated blinds are especially popular in bedrooms for sun rays in order to maintain precious quiet undisturbed  sleep. Sun blocking materials do not necessarily have to be black – select the shade you like and which fits to your interior: 
Unlike sun blocking materials, sun reflecting materials are covered with aluminium foil rather than a rubber layer from the outside, and this way, they reflect warmth and isolate heat. This is especially beneficial in homes with rooms which are oriented to the south, drawing heat in through the windows in summer. Other materials of pleated blinds will allow some light into the window, keeping you connected with the natural cycle of the day as the sun rises and sets. Thus, your room will stay light, even though direct sunlight will not penetrate into the room. In this way, you are also protected from the reflections on screens and from fading of furniture colour.
Designer advice: how to fit pleated blinds in the interior
The materials of pleated blinds will give your home the sense of comfort, style and perfect design. Creation is endless and the human is created for surprising, therefore, DEXTERA designer Ineta suggests looking around and discovering the combinations of pleated blinds' materials to achieve your ideal interior.
Bright and rich colour pallet CLARISE – real reviving for eyes 
The most eye-catching colour, and the most popular for several years, is emerald green. This colour is easy to fit, often becomes the main accent of the interior of natural colour gamma. 
Emerald green fits perfectly well in the living-room, bedroom, and even the bathroom. This area usually has the least natural light, as people prefer not to leave windows open due to privacy concerns. Green pleated blinds give the room a sense of playfulness and do not darken it. Also, green has a positive effect on our emotional state. Therefore it is worth choosing pleasant and positively setting accents for the room where we begin and end our day. 
If you want to create a harmonious environment, you can incorporate fine details or choose bolder solutions to emerald pleated blinds – for example, wallpaper decorated with leaf motifs. And the simplest way of repeating the green colour in the interior is by adding houseplants.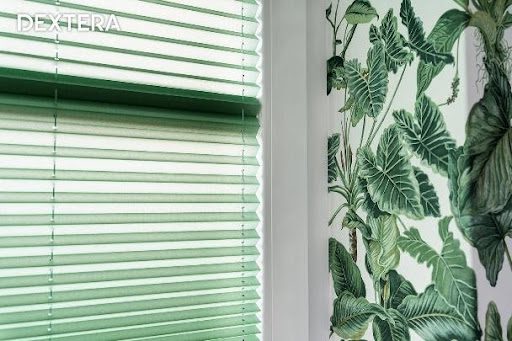 Purple has been considered the royal colour since the fourth century before Christ. And contrary to our beliefs, it is not synthetic – purple or violet colour can be found naturally, through plants such as  lilacs, lavender and blackberries. 
Purple is rich and viable, so it should be used moderately in the interior. Purple pleated blinds are suitable for both playful children rooms and areas of neutral colours where a brighter accent is wanted. Like combining other bright colours, after selecting purple pleated blinds, the interior should be supplemented with the cushions of a similar shade or other interior details. In this way, one detail will create a harmonious interior by supplementing another detail. 
Bright turquoise or yellow pleated blinds – bold and especially stylish choice. Lemon pleated blinds subtly influence our mood like a boost of Vitamin C, and turquoise blinds reflect the sky and sea, and give a sense of freshness. 
The usage of these colours in the interior can be really different. For example, turquoise pleated blinds, fitted in the room, where sharper corners and darker tones prevail, will create a modern and solid interior. Meanwhile in the area with plenty of eclectic interior details and different textures, yellow pleated blinds will only supplement a playful and youthfully non-ceremonial interior.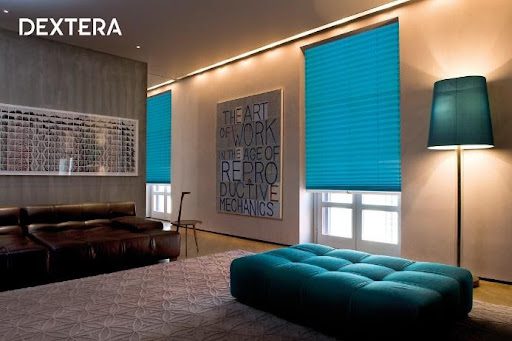 Pastel colour pallet – ageless classic 
Neutral colours have conquered the hearts of Lithuanians, therefore, it is not strange that most people select earthly colours for their homes. Quiet and cosy colours are suitable both for classic and modern interiors. 
For example, light blue pleated blinds make a well-considered choice for the bedroom. This colour gives the sense of freshness and quietens. When fitting subtle accents, this colour will supplement, but not deaden other interior elements. Dampened blue looks especially beautiful with light wood details.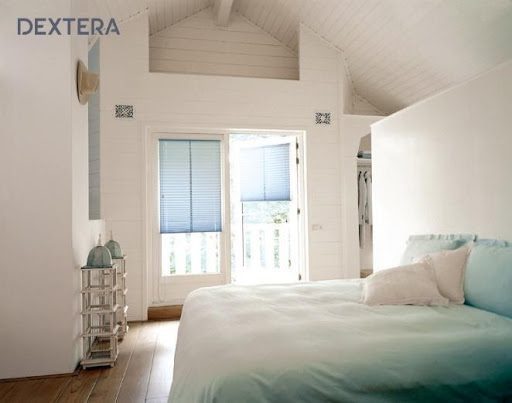 Soft cream is one of the most popular choices. It is easily combined and does not go out of fashion for many years.  Especially those should pay attention to this colour who create a modern interior with plenty of strict lines and warmer colours. For the purpose of avoiding a sense of coldness in modern interiors, add several small accents to insensibly create a balance. Cream pleated blinds will give cosiness and softness, and will bring soft texture. 
The pallet of materials of fully darkening pleated blinds
This pallet is first of all intended for those who look for functionality. Darkening materials fit perfectly well in offices, bedrooms, children rooms. This pallet is comprised of neutral, classical colours which easily fit into almost every interior. 
For example, the combination of bright green and brown colour repeats the motifs of nature and helps create an oasis in the home. If you add several houseplants to the interior, natural odour candle and linen cushions – even after the most tense day, such home elements would help you relax and enjoy a sense of internal calmness.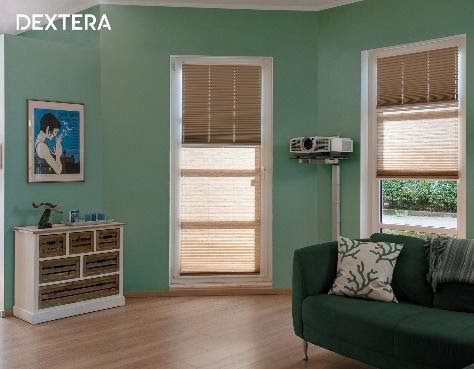 Let's breathe in awakening nature and let's celebrate life. We invite you to discover inspiring interiors, new collections of materials and special offers for blinds and roller shades together with DEXTERA!