Novelty of the season – pergola gazebo ELEGANT
2022-04-25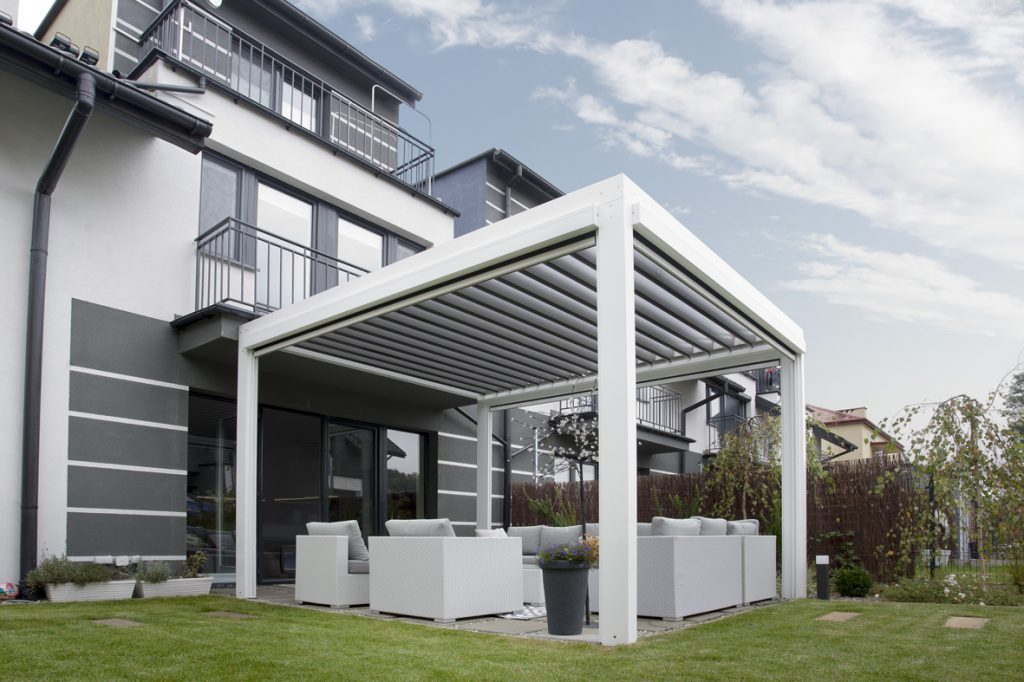 2022-04-25
Novelty of the season – pergola gazebo ELEGANT
As the spring sun shines brighter and brighter, we want to spend more time in the fresh air. To sit comfortably on the terrace of the house, enjoy a cup of coffee and watch the waking nature. Sunbathing is a real pleasure, but where to hide from its dazzling rays?
Advantages of pergola gazebos
Pergolas are modern gazebos that ensure pleasant rest and privacy. These are high-quality, durable and aesthetic systems that have many advantages compared to traditional gazebos. Pergola gazebos are lighter, their materials are specially designed to not let out sunlight and help prevent dangerous UV radiation. The choice of these systems is often determined by the durability and longevity of the materials.
For those who care not only about quality but also design, it is necessary to mention that it is possible to choose the colors of both constructions and fabrics. For this reason, pergola gazebos are extremely easy to match to the facade of a house of any style. Pergola gazebos are suitable for almost all terraces and can be flexibly adapted to even the most demanding customer needs. For example, the pergola gazebo can be covered with PVC roofing or used aluminum slats, the structure can be attached to the facade of the house or freely erected.
"More and more customers want to enjoy the benefits of gazebos all year round, so they also choose side wall coverings, sliding glass systems, infrared heaters. However, taking into account that the settlers incur endless costs for the installation of their homes, this season we have also offered an economical but very elegant design pergola ELEGANT," says Andrius Čerauskas, DEXTERA's Project Sales Director.
The new pergola gazebo ELEGANT – stylish and light
Elegance and an extremely attractive price are not the only advantages of the ELEGANT pergola. The system of this pergola is extremely easy to assemble. Its roof is made of durable aluminum slats, which ensure long-term use of the product, and the integrated LED lighting will give the terrace a pleasant coziness. The pergola roof slats move automatically and are controlled by a remote control, making it easy to find the right balance of light and shadow. Both the pergola roof and the LED lighting are controlled by a single remote control, which will appeal to those who love simplicity.
"This product really lives up to its name – it is not only functional but also extremely stylish. This gazebo is easy to install, easy to operate and its price is really attractive. I think this will determine the choice of many homeowners." – A. Čerauskas names the reason for introducing the novelty to the Lithuanian market.
The representative of DEXTERA suggests not waiting for the summer heat to hit – contact us now for professional advice on how to control the sun on your terrace.